This wonderful aviation adventure wouldn't have been possible without the help of many. I'd especially like to acknowledge the assistance of the following individuals:
Magazine editor (Plane & Pilot) and ferry pilot Bill Cox and his attorney/pilot/nurse wife Martha, who very kindly opened their home up to me for two days in August to give me a crash (bad word?) course in international and long overwater flight operations.
Owner Jim Horowitz, Paint Shop Manager Larry Guilford, and the rest of the dedicated staff of Oxford Aviation in Oxford, Maine for completely refinishing the Mooney both inside and out prior to the trip. Their custom work was so impressive that in EVERY country I visited I was asked if the airplane was brand new. No one guessed that it was really 18 years old!
Al Petrone and his company in Deland, FL, National Air Parts, which built, certified, and sold me the mil-spec 100 amp alternator that gave me adequate power to run all my accessories and with the reliability necessary for long overwater operation.
Frank, Mark, Donna, Kim, Sharon, and all the others at Jeppesen's International Flight Planning Department for providing invaluable round-the-clock assistance helping me through the numerous bureaucratic barriers that were faced on this journey. They were great fun (and a relief!) to work with.
Ed Novak and his crew at Shoreline Aviation in Marshfield, MA who carefully and expertly installed the TKS deice system, Precise Flight speed brakes, and long range wing fuel tanks, all of which would be critical to this trip. Ed also dropped everything to perform fast, last minute repairs on the main wing tanks when they were surprisingly found to be out of compliance with an FAA airworthiness directive regarding the opening of certain intra-tank drain holes. Without this help, I would have been grounded!
John Hill at East Coast Aviation in Bedford, MA for installing one of the world's only permanent HF radio installations in a Mooney airplane, and for making it work beautifully! Without a good HF radio, long transoceanic flights can be much more hazardous, as there would be no way to call for help if things should go wrong while enroute. HF, called "shortwave" in the old days, enables communications over literally thousands of miles with only a compact 100 watt transceiver and a 25 ft wire antenna. Normal aviation communications are VHF, and are thus limited to a short range line-of-sight distance (perhaps a few hundred miles at most). John's excellent installation worked so well that I was able to talk to San Francisco air traffic control on HF from the ground after landing in Hilo, Hawaii (about 2,400 statute miles!).
Joe Gardner, chief maintenance inspector at East Coast, for working back-to-back all nighters to get my plane meticulously inspected and up to snuff for its very demanding journey.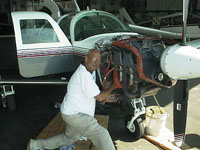 Victor Koss (shown at left) and Fred Sorensen, who somehow managed to squeeze more than 145 gallons of extra gasoline capacity into that tiny cockpit with me, and to do it legally, safely, securely, and (whew!) with no vapor smell. Vic has tanked over 2,500 airplanes over the years for transoceanic trips, and is perhaps the most experienced guru in this field anywhere. Fred, an expert in his own right, does this work simply for the love of it. In his "other life" he's a senior captain with Southwest Airlines, married to another former airline pilot (who has since turned in her shoulder boards to pursue a music avocation). Fred not only installs tanks for others, but he often ferries airplanes of all sizes worldwide by himself. He's another guy who's just hooked on aviation beyond all hope of recovery!
Bill Leahy and his crew at Leahy Aviation in Oakland, CA who double-checked and serviced the airplane during the fuel tank installation. Bill is another aviation addict: educated at both West Point and the Moody Bible Institute (does this guy have self-discipline or what?), he's both an experienced pilot and a maintenance expert who trains bush pilots for back woods missionary work in third world countries. He even offered to fly as my "wingman" in a borrowed airplane in a formation flight following my overweight takeoff from Oakland Airport to be sure I'd get off and be able to climb to altitude OK, and also to provide moral support to me for my first transoceanic leg. As it turned out, fog delayed my takeoff from Oakland until late enough in the day that he wasn't able to depart his home airport (Hayward, CA) to join up with me. They were having an airshow at Hayward that day, and the airport was closed for all departures by the time I took off.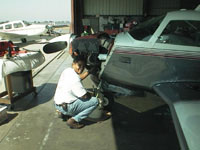 Bill's the kind of guy that keeps the aviation family great. Bill's associate, Lulio Gagot (shown in the picture changing the oil), works full time as a mechanic at United Airlines, but came over on his off hours to help get me ready for this critical flight. Lulio was kind enough to provide me with some of his tools so I could change the oil, replace sparkplugs, and perform other simple repairs that might become necessary in Third World locations where skilled help might be unavailable. He also gave me personal training on many repairs that I might have to make by myself in the field.
Bill Stoner (owner) and Susanna Corcoles (chief flight instructor) at Advanced Helicopter Concepts in Frederick, MD for showing an old dog (age 47!) that it's never too late to learn difficult new tricks (in this case, how to transition from fixed wing aircraft to the flying of helicopters to very demanding commercial standards). Their lessons helped reinforce my confidence in undertaking this adventure.
New airline pilot (congratulations!!!) and long-time friend Andrew Nordgren, who flew with me on my first transoceanic flight (in my Seneca) back in 1991 to and from Europe over a two week period. It was Andy's idea to create this web site, and it was he who managed it for the first half of the trip.
My business partners: Robert Crane, Elizabeth Chen, and Jean Nichols. They worked hard to help me free up from enough work commitments to be able to get away for 60 consecutive days, and generously handled many of my business obligations in my absence.
My wife and children. They made more sacrifices than any others to support me in getting ready for and carrying out this adventure, which had been a lifelong dream. Their loving tolerance of my obsession with flying and my wanderlust is much appreciated!
My parents Dick and Carol Prior, who taught me that a dream is pointless without the will and the determination to carry it out, and to do it to the very best of your ability.
Also, a special thanks to the countless others who lended support in many ways toward this undertaking. While I can't list everyone here, I promise not to forget the efforts of any of these wonderful folks!
Home | Itinerary | Notes to Pilots | Ham Radio | Thank You


Designed by MindSpring