While in flight on the trip, I used some of my free time when in oceanic (international) airspace to talk by HF radio with many amateur radio operators ("hams") all around the world. Although a licensed ham since childhood (call sign WA8FRY), I had never before had an opportunity to operate a ham rig from an airplane, let alone from diverse and remote locations all over the world. What a splendid opportunity!

Given the advantageous ionospheric conditions that prevailed during the trip, the excellent ground conductivity of seawater, and my average altitude (and thus, antenna height) of over a mile, I found that signals in the 14 MHz/20 meter ham band propagated extremely well. I made a large number of terrific contacts, all on that band.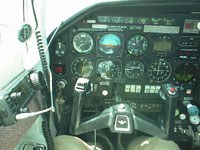 The Mooney was equipped with an ICOM IC-706MKII HF transceiver (its control head is shown at near left in the picture) that fed through an ICOM automatic antenna tuner to an aviation grade long wire antenna. The antenna was strung from a feed-through port on the left rear fuselage out to the left forward tip of the horizontal stabilizer and then forward to a flexible mount at the left wing tip. The total antenna length was approximately 25 ft. Transmitter output power was 100 watts peak envelope power on upper side band.
The following is a complete list of all the QSO's (i.e., contacts) made while on the trip. They are grouped according to trip leg. As you can see, there were only a few legs where I had sufficient free time as well as good HF operating conditions (usually late nights) to do this.
Each QSO is listed with the station's call sign first, followed by the operator's name (if available), followed by the station's geographic location (if available). If I have missed anybody, please let me know and I'll update or correct this listing.
To all the wonderful hams around the globe who kept me company on my long trek, thanks a bunch!


Contacts made on leg from Oakland, CA, USA to Hilo, HI, USA; 7 Sept 98
VK4SJ
Jean
Queensland, Australia
ZL1QG
New Zealand
VK3CEW
Australia
VK3CB
Australia


Contacts made on leg from Kona, HI, USA to Apia, Western Samoa; 11 Sept 98
K7LSF
Charlie
Wilcox, AZ
W7AFF/7
(mobile in western USA)
W6AOK
San Diego, CA


Contacts made on leg from Nadi, Fiji Islands to Brisbane, Australia; 17 Sept 98
OZ6TW
Torben
Middelfart, Denmark
VK3XN
Ian
Melbourne, Australia
KH6CDO
Frank
KB5IQD
Norvel


Contacts made on leg from Johor Bahru, Malaysia to Madras, India; 1 Oct 98
VU2AU
Paran
India
S21J
Mantaz
Dhaka, Bangladesh
RW9FM
Moscow, Russia
VU2ABE
Abie
Shillong, India
W3PID/DU9
Philippines (portable)
VK6NU
John
Perth, Australia


Contacts made on leg from Trivandrum, India to Seychelles Islands; 3 Oct 98
OE3HPU
Hans
Vienna, Austria
VU2UKT
Unni
Madras, India
S7RR
HA5JI
Gyuri
A61AJ
Ali
Dubai, UAE
VU3NAX
Abdul
Southern India
DJ8QQ
Horst
near Hamburg, Germany
S21YE
Andrew
Dhaka, Bangladesh
DL2KWE
Uwe
Northeastern Germany
VE3JV
Wayne
near Toronto, Ontario, Canada
WB4NXS
Chris
North Carolina
W9DY/9
(mobile near Chicago, IL)
VK2DON
Don
Sydney, Australia
4X6KA
Yair
Tel Aviv, Israel
K9WR
Bill
Chicago, IL
G4DST
Rob
United Kingdom


Contacts made on leg from Abidjan, Ivory Coast to Sal, Cape Verde; 20 Oct 98
ZD7WRG
Johny
St. Helena Is.
EW200M
Kaz
Belarus
ZS2ABC
Pierre
Pt. Elizabeth, So. Africa
DM2DXA
Uwe
Germany
ZS1HL
Artie
Capetown, So. Africa
ZS6AQS
Don
Pretoria, So. Africa


Contacts made on leg from Sal, Cape Verde to Bridgetown, Barbados; 22/23 Oct 98
WP4A
Allan
W8IIP
Joe
Dayton, OH
W2HTT
Bob
8P6NY
Ivan
WA2HLV
San Juan, PR
VP2EJR
Joe
N3BBT
Chavez
W1EK
VK2ZE
Larry
Australia
NV0P
Greg
Mobile in NC
K9YAX
Bob
Chicago
KC2DCD
Art
EA1XF
Jess
Spain
NR8O
Ron
Cincinnati, OH
VE1ACJ
Howie
St. Stephen, NB, Canada
KC6SFI
Bill
Mojave, CA
W2QGA
Bill
W1GY
Bill
Burlington, CT
W6DMJ/0
Jerry
Minnesota
KG8ET
Jackie
W8ZNH
Bill
Big Rapids, MI
WB6LZD
Bill
9Z4CT
Nigel
Trinidad
HP1/DL1RBR
Ramaer
Near Panama
PS7SAS
Sergio
Brazil (NE corner)
W0JMZ
Don
St. Paul, MN
W0LBK
Arlo
Cedar Rapids, IA
WA3JVE
Mike
Annapolis, MD
Home | Itinerary | Notes to Pilots | Ham Radio | Thank You


Designed by MindSpring