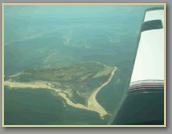 (Note: Last updated 2 July 2020)
Introduction

A decade ago I retired from a long career as a company CEO in the biotechnology and medical device industries, and I'm now thrilled to be spending my time teaching science to high school students in Massachusetts.
My most treasured avocation for the past four decades has been flying airplanes and helicopters. A number of years ago, many fortuitous personal events came together to make it possible for me to realize a lifelong dream: solo flight of a light single engine airplane around the world. The trip took place back in September and October of 1998.
This web site reviews that entire trip for you. It was created without commercial intent, but rather was put together to give people from all walks of life a chance to vicariously ride along on that trip with me. I sought no sponsors for the adventure, so any opinions expressed here are therefore my own (however biased!) and have not been provided at the request of any other parties.
It is my sincere hope that through this site others will come to appreciate 1) some of the wonderful things that can be done in small general aviation aircraft, and 2) what fascinating places and friendly people can be encountered on our planet when traveling off the beaten path. Any errors of fact or inadequately informed opinions found on this site are entirely my own personal responsibility. I look forward to hearing from you regarding any corrections, additions, or comments that you might have at: ReedPrior@aol.com
Want to get started? Just begin by clicking on the "Itinerary" tab, followed by the selection of any of the highlighted flight segments and destinations. For most segments you will then open up a combination of a pilot report, a tourist report, and a number of photographs. If you like, you can step through the trip legs in chronological order as I flew them, or you can just jump around at will. Another way to navigate through the various reports and pictures is by simply clicking on any destination or leg segment shown above on the world map. Also, if you'd like to enlarge and/or print out any of the photographs on this web site, just click on the selected picture. Finally, you can learn about the airplane I flew by clicking on the airplane photo above, and you can also try out the other tabs as well. I hope you enjoy sharing the adventure with me. Thanks for riding along!!
Reed R. Prior
July, 2020
Air to air photo of the trip airplane by Mike Fizer. All material copyright 1998 - 2020 by Reed Prior. Permission is hereby granted for anyone to download any or all of the contents of this site for personal, noncommercial use only. Use or reproduction for any commercial purpose without the express written permission of the copyright holder is prohibited.
Statements contained herein are the opinions of Reed Prior, and may contain inadvertent errors. No warranty of accuracy or factual completeness is expressed or implied. Discussions of flight procedures are meant to be of an informal and conversational nature only, and do not necessarily represent the views of the aviation authorities of any government. Furthermore, nothing herein should be construed as ground or flight instruction. Also note that long, transoceanic flying carries with it significant risks, necessitating special training and the carriage of sophisticated navigation and survival equipment. Such flights should never be attempted without proper preparation.
Home | Itinerary | Notes to Pilots | Ham Radio | Thank You


Designed by MindSpring