Description of Around the World Trip Airplane: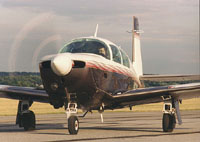 Manufacturer: Mooney Aircraft Corp.
Model: M20J "201"
FAA Registration #: N60RP
Type: Low wing, 4 seat, monoplane, with 200 hp normally aspirated 4-cyl. piston engine
Year built: 1980
Serial #: 24-1000
Total airframe time since factory new: 3,400 hours as of trip start date
Engine time since factory new: 410 hours as of trip start date
Engine type: Lycoming IO-360-A3B6 engine w/ independent magnetos
Prop time since overhaul: 410 hours as of trip start date, dynamically balanced
Normal gross weight: 2,740 lbs
Special ferry permit weight for trip: Approved for over gross operations

Mechanical options installed:

TKS full deice system (airframe, prop & windshield, plus front & rear deice lights)
National Airparts 100 amp, 14 volt electrical system, plus E.I. voltmeter/loadmeter
Precise Flight manual speed brakes
Monroy long range wing fuel tanks (87 gal total usable fuel in wings)
Sky-Tec high torque, lightweight starter
Shadin miniflow fuel computer
Electric standby vacuum pump
Insight graphic engine monitor
Wingtip strobes
Rosen sun visors
145 gal of added ferry fuel capacity in 3 cockpit tanks (per FAA ferry permit for this single trip only)
Manual engine oil refill pump (in cockpit, per FAA ferry permit for this single trip only)
Avionics equipment installed: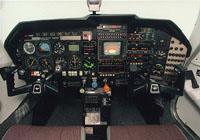 KFC 200 flight director/autopilot, fully coupled
KCS-55 Horizontal Situation Indicator (w/ compass, slaved)
KNS-80 Area navigation computer with / DME / VOR / LOC / GS
Apollo SL-60 IFR GPS/VHF Comm, fully coupled, with databases loaded by laptop computer as required for worldwide coverage
KY-197 2nd VHF Comm radio
ICOM 706MKII HF/VHF transceiver w/ AH-4 antenna tuner and 25 ft long wire antenna
KN-53 NAV with 2nd GS (switchable to autopilot)
Apollo 360 moving map, high contrast black/white screen with worldwide databases loaded
WX-1000E+ Stormscope (coupled to HSI & GPS)
RCA WeatherScout color radar with wing-mounted pod antenna
Ryan 8000 Traffic collision avoidance device
AMS-2000 Shadin altitude alerter w/ 8800-M altitude sensor (10' resolution)
KT-96 Flightphone
KR-87 ADF with slaved compass card
KT-76A transponder with encoder
Terra digital radar altimeter
KMA 24 audio panel with marker beacons
Telex 4-place intercom with music input (used for HF radio and CD player listening)
Bose headset with built-in pilot/copilot interface
Survival gear carried for trip:

Winslow self-inflating 4-man life-raft with canopy, insulated floor, marine survival kit, strobe light
PUR reverse osmosis water desalinator and purifier (manually operated)
ACR satellite EPIRB emergency locator beacon transmitter
ICOM IC-A4 handheld VHF transceiver
Garmin GPS III Pilot handheld navigator with worldwide databases
Full body immersion suit
Life vest with radio pockets, strobe light and ELT transmitter
Mountain/Jungle survival kit
Polar survival clothing
Comprehensive first aid, medical, and emergency surgery kit
Reserve food and water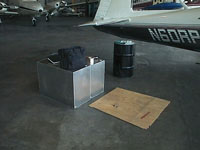 Ferry tanks sitting beside the plane before installation. The two large ones hold up to 55 gallons each, and the barrel holds up to 35 gallons. The two big tanks were installed where the back seat used to be, and the barrel replaced the copilot seat.









Home | Itinerary | Notes to Pilots | Ham Radio | Thank You


Designed by MindSpring